Intuto has a library of 'off the shelf' course content called Templates. Templates can be used as they are, or modified to be specific to your organisation. In either case they form a solid base of content for you to share with your users.
To see a full list of the available courses you can use on any Intuto subscription click here.
Instructions
To use a course template go to your Content page.
Up the top right you will find the Templates button, click on this button to see all of the available templates you can use.

At the top of the page you will see Your Templates which are templates that have been made by an owner or contributor in your site. Below this you will see Public Templates which are templates Intuto has made for you to use.
If you haven't created any templates of your own then you will see that the Your Templates section is empty.
Click on the Preview button to review the template prior to use.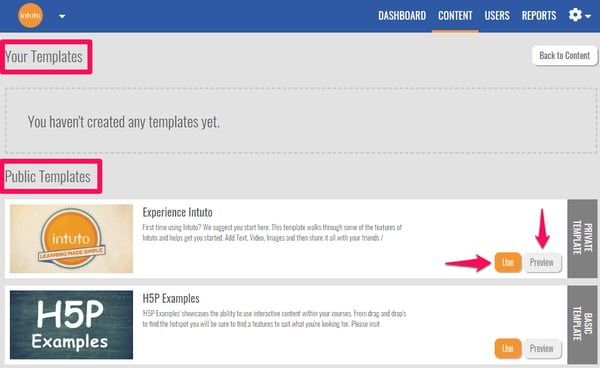 Use the Next arrows or the left hand menu to navigate through the course. Click on the Exit Preview button to return to the Templates page, or click on the Use Template button to use the template.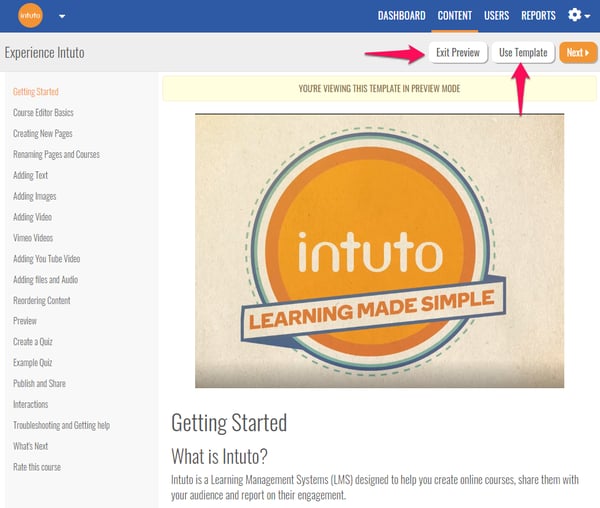 Clicking Use Template will take you into the course editor where you can make any changes before publishing your course.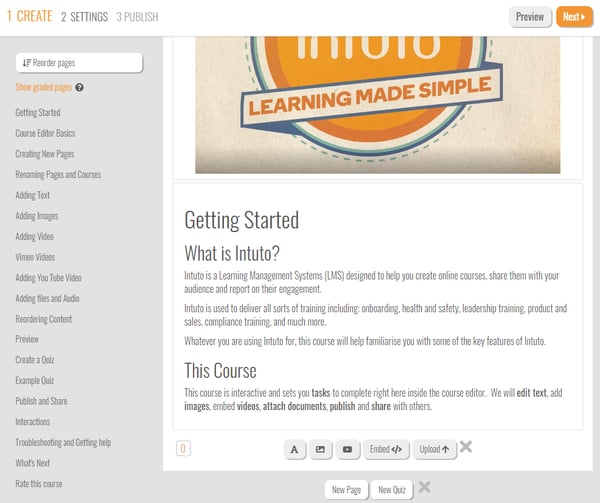 To learn how to make changes to your template see the links below.
Note: Some templates have tasks for the course editor and instructions in italics throughout the course. In these cases, simply click in the text editor to select and remove the instructions to add your own text.
You can see a preview of what your course will look like for your users by clicking Preview shown at the top of your editor by the Next button.

When you are happy with your new course click on Next to go through to your Course Settings.
Your course will then appear on your Content page where you can edit, share and report on it.
Contact us at support@intuto.com for help or more information.