Quizzes are tracked questions inside your Intuto courses that can be used to test users' understanding and acknowledgement.
Quizes are easy to create using the '+' at the bottom of a page. Watch this video for a demonstration on how a quiz can quickly be created.
You will be able to add more questions by clicking the + icon.

Click the pencil icon on the top of the Quiz in order to Edit Settings, Reorder, Copy, Undo any changes or Delete the quiz entirely.

By clicking Edit Settings you can set a pass mark and limit the number of attempts. By default users will have unlimited attempts at the quiz.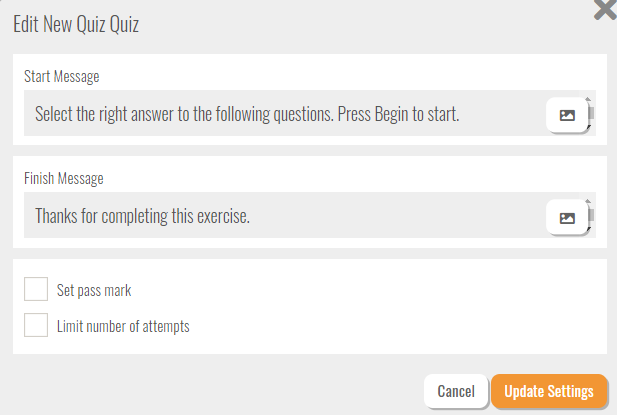 You can also update the quiz 'Start' and 'Finish' messages. Optionally you can include images inside the start, finish, question and answer options by clicking the image icon next to each option each one - learn how.
If you set a pass mark on your quiz your finish message will automatically update to include a 'Pass' and 'Fail' message - this can also be edited.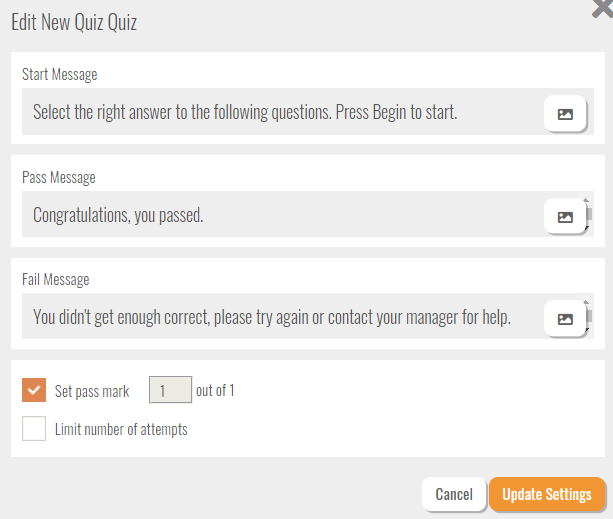 Add as many questions/answers to a quiz and as many quizzes to a course as you like.
You will be able to view quiz results inside the Intuto reports.
Contact us at support@intuto.com if you need any help.