Course collections are useful in grouping courses together into one cohesive package for users
Course collections can be accessed under Settings under the cog in the top right of Intuto.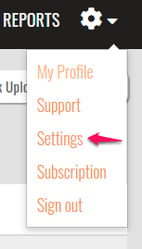 In settings, select 'Collections' from the left side menu.
Then click 'Create Collection' on the top right to create a collection, as shown below.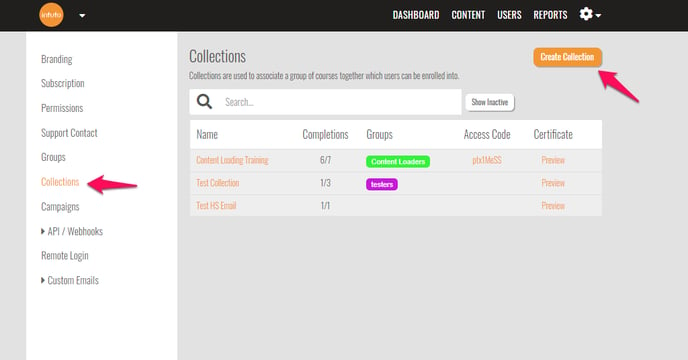 Enter a name and description of the collection in the pop up, note the description is an optional field. You can always update the name of the collection at a later date.

This will bring up the collection editor as seen below.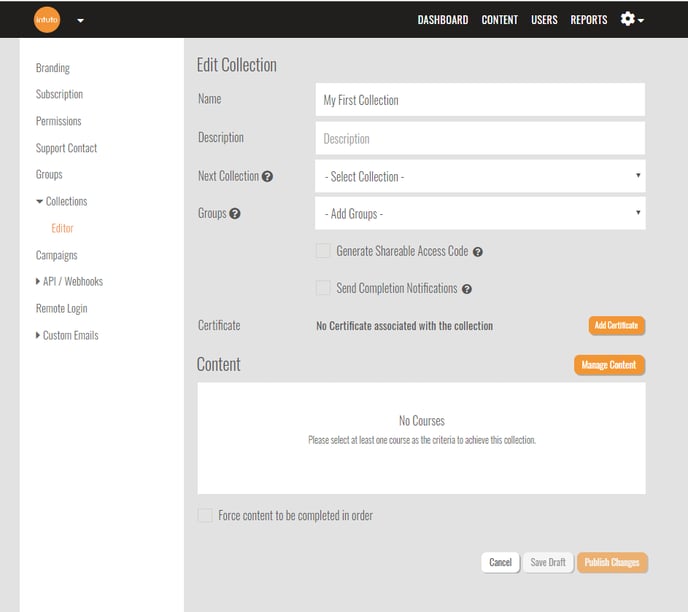 There are a number of settings in the collection editor, as outlined in below.
'Next Collection' allows for selection of a collection to follow the current one. This is a great way to create a learning pathway i.e. when a user completes this collection they will automatically be enrolled into the next collection selected here. Note this setting is only available when more than one collection exists.
'Add Groups' will automatically enrol all users with that group (or selection of groups) into the collection e.g. if group 1, 2 & 3 are added to a collection, any user who belongs to group 1, 2 & 3 will then be enrolled into the courses associated with the collection. Note that users need to belong to ALL groups selected to be automatically enroled, so in the above example a user who only belongs to Group 1 & 2 will not be enrolled. You can also manually add users to collections.
'Generate Shareable Access Code' will generate a code or direct link to the collection for users to self register. The expiry date will mean that no one new can register after that date. Note that all existing users register into the collection before that date will still be able to access the collection and courses.
'Send Completion Notifications' will allow email addresses to be entered that should be notified upon a user completing the collection. To put in more than one email address use a comma between the emails.
Use 'Add Certificate' to a collection for a user to be awarded a certificate upon the user completing all courses in the collection, find out more about certificates here.
Click 'Manage Content' to get a course picker and select the courses you would like in your collection.
'Force content to be completed in order' will set up your collection so the user can only move onto the next course after completing the course before. When this option is selected a 'Reorder' button appear next to the 'Manage Content' button. Once again this helps with learning pathways as you can ensure one courses is delivered and understood before the user can start on the next course.
Contact us at support@intuto.com for help with Course Collections or to book a training demonstration.