The Bulk Upload feature in Intuto can be used for multiple tasks such as creating Users, updating User details, adding/removing Users to Groups and enrolling Users into Campaigns/Collections or Courses.
Use this tool to:
Add Users to the system
Enrol a group of Users into a Course, Collection or Campaign
Enrol Users to more than one Course or Collection at a time
add/remove users to/from User Groups
update existing User profiles
Instructions:
1. Access Bulk Upload from the Users page or a Course's Share page:
Users page:

Course Share page: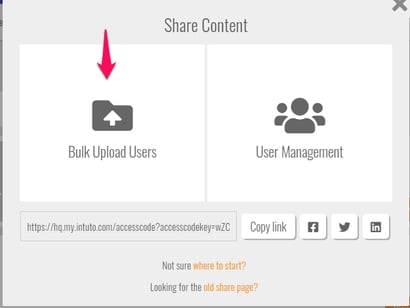 2. Click on the Bulk Upload link/button, then upload a CSV file. Click here for bulk upload file information.


You may get yellow file warnings if you have uploaded people who have an account already. This is fine; you can still upload the file.
If you get a red file error, you will not be able to continue until this error is fixed. If you are having trouble fixing it, please email us (at support@intuto.com) with the file you are trying to upload so we can see what the problem is.
3. Click 'Submit'. You will be taken to the Bulk Upload Settings page.
Tick the box 'Enrol Existing Users' to ensure that existing users are enrolled into the content.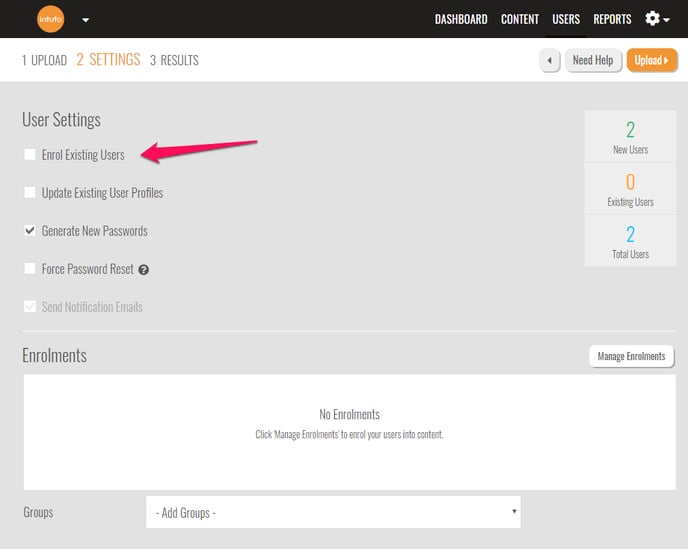 4. In 'Enrolments', partway down the page, click on the button on the right which says 'Manage Enrolments'.

Here you will be able to choose which Course(s), Course Collection(s) or Campaign(s) to enrol your bulk-uploaded users into. Once you have finished selecting the appropriate enrolments for the group, click 'Submit'.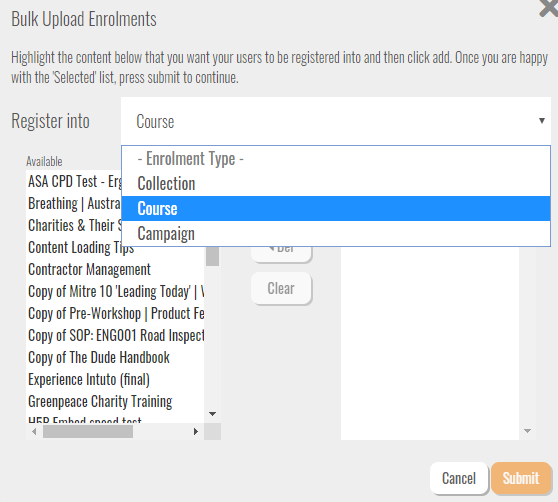 5. You can also add your bulk upload Users to User Groups with the Bulk Upload tool. Choose an existing Group from the 'Add Groups' drop-down menu below the Enrolments box.

You can see the Group(s) your Users have been added to.

When you are happy with your Bulk Upload User Settings, click the orange 'Upload' button at the top right of the screen. Then click 'Upload' to confirm.

The users will then be enrolled into all content you have selected and receive confirmation by email of their enrolments.

We know this can be daunting so feel free to send the file through to us and we can upload it for you.
Contact support@intuto.com for more information