Certificates can be added to your site to acknowledge the achievement of your users.
To add a certificate to a course, the course will need to be within a Collection. Learn more about Collections here.
Once you have created a collection you can add a certificate to it by clicking Add Certificate in the collection editor.
This will take you to the certificate editor where you can customize the look of your certificate and adjust the settings.
Note: If you add a certificate to an existing collection any users who have completed the collection prior to the certificate being added will not receive the certificate. If you want these users to receive the certificate we suggest creating a new collection from scratch.
Certificate Editor
In the certificate editor you will see some sections are grey.
The grey sections are pulled from the Intuto system and can't be changed from the certificate editor. All other sections on the certificate are customizable, you can change these by clicking on them and typing what you would like the certificate to say.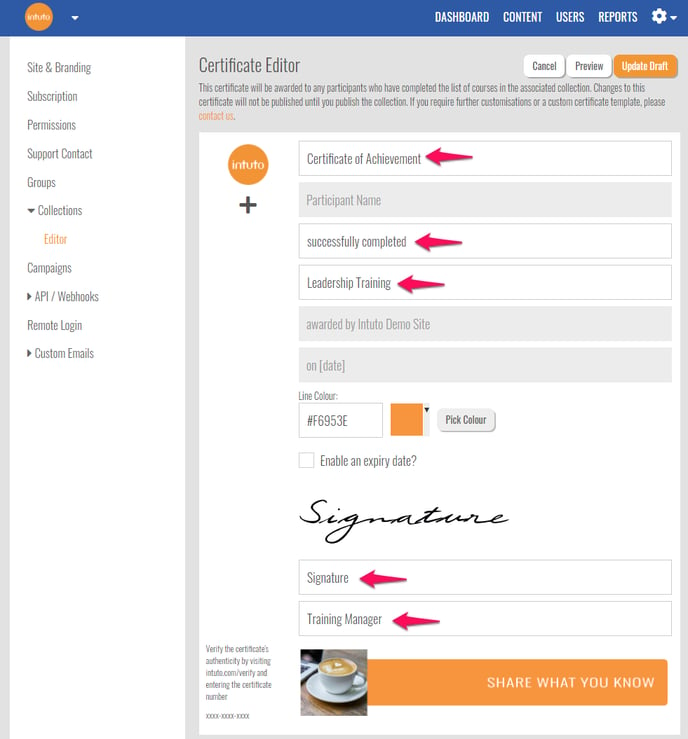 You can update the logo image in the top left by clicking on it and either editing the current image or selecting a new one. You can load up to 3 images in this section, they will be displayed underneath each other down the side of the page. Click the "+" icon to add another image. These images must be at least 300 x 144 pixels.
Upload an image of your signature by clicking the on the Signature image and replacing it with your own. The certificate looks the best if your signature is on a white background, and the image must be at least 300 x 100 pixels.
The bottom banner can also be changed. Click the banner and replace it with an image of your choice. This image must be at least 530 x 100 pixels.
To see what your certificate will look like when issued to your users, click Preview in the top right of the page.

Additional Settings
Below the certificate editor you will see Additional Settings.


Manually issue the certificate? - Decide if you want the certificate to become available to the user as soon as they have completed the collection, or if the certificate needs to be manually issued by an Editor/Administrator. You can learn more about Manually Issuing Certificates here.
Send the user an email on completion? - You can choose to send the certificate to the user via email once it has been issued. The user will receive the certificate as a downloadable PDF.
Save your Changes

One you are happy with your certificate and the way it will be issued, scroll back up to the top of the page and select 'Update Draft' to save your changes. This will take you back to your collection editor to continue editing your collection.