When you have created a collection, you can enrol users into it from the User page.
To enrol users into a collection, you first need to create your collection and add your courses/certificate/settings. You can learn how to create and edit a collection here.
Enrolling your users
To enrol users into a collection you can:
use the Bulk Upload feature
create a share link so users can register themselves
select the users from the User page
Bulk Upload:
If the users do not have accounts in your Intuto site, you can use a Bulk Upload to add the users to your site and enrol them into a collection. You can also use a Bulk Upload to update the accounts and enrolments of existing users in the site. Learn how to complete a Bulk Upload here.
Using a Share Link:
You can create a share link (URL) for users to register themselves into the collection. This can be created in the Collection settings. Learn more about this here.
From the User page:
Use the search bar to search for the user/s or group of users you would like to enrol in the collection.

Use the tick boxes next to the User names to select the users you would like to enrol, or use the tick box in the header to tick all of the users on the screen. You can see how many users have been selected in the top right of the screen.


Once you are happy with your selection, click Bulk Actions and select Register # Users in Course/Collection.

You will then see the following pop up.
Make sure the "Register into" dropdown is showing Collection. Use the Add>, <Del and Clear buttons to move your desired collections to the Selected list.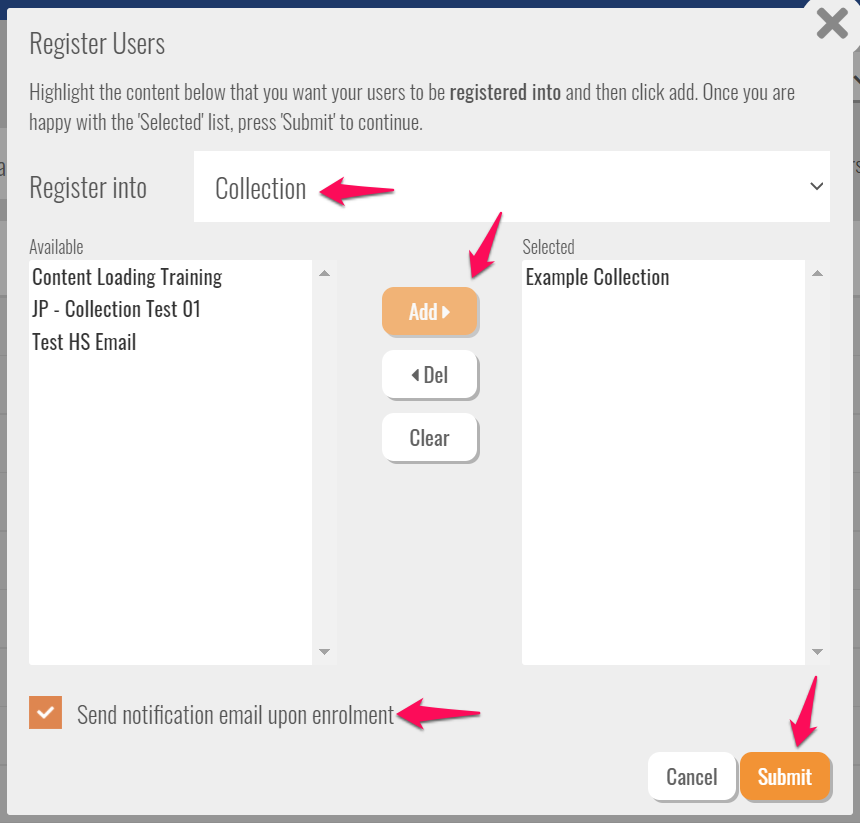 You can also chose whether to send an email notification by ticking the box at the bottom of the pop up.
Once you are happy with the collections you are enrolling the selected users into, click Submit.
Your users will then be enrolled into the collections you have selected.
If you have any questions about enrolling users into collections, contact us at support@intuto.com for help or more information.