Collections are used to group relevant courses together, simplify enrolments and organise reporting.
2. Edit the Collection Settings
Learn more about how collections can be used here.
Create a Collection
You can easily create a collection from the Content page by clicking on Create new...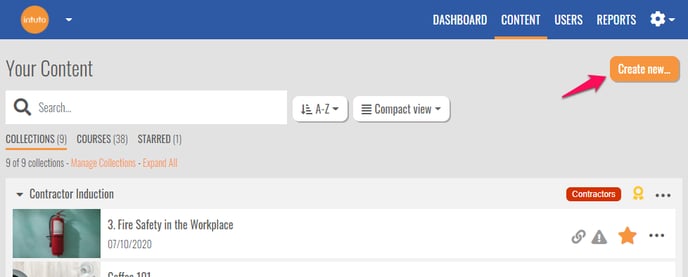 This will bring up a set of creation options, click New collection.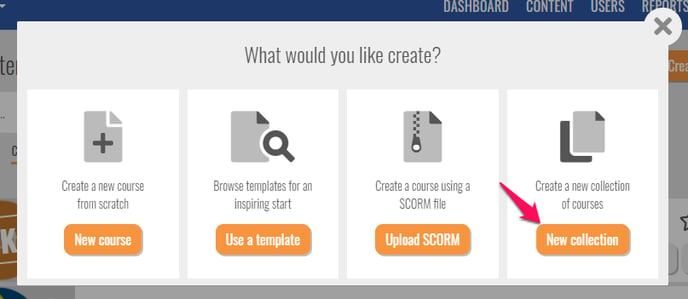 Editing your collection
If you have created a new collection following the steps above, you will be taken directly into the collection editor.
If you would like to edit an existing collection, go to the collections tab in your settings and hover over the name of the collection you would like to edit to show the pencil icon.

Click the pencil icon to see a list of actions, and click Edit to access the collection editor.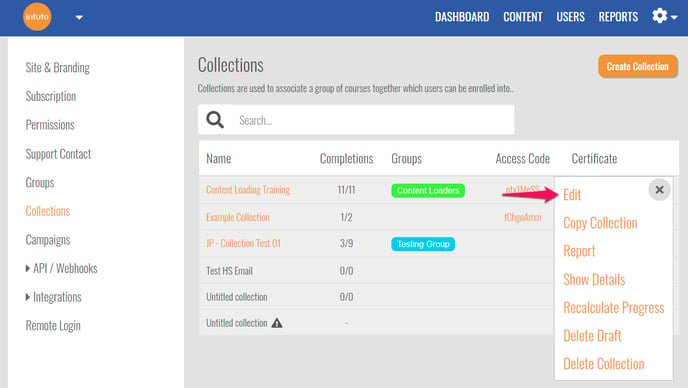 The Collection Editor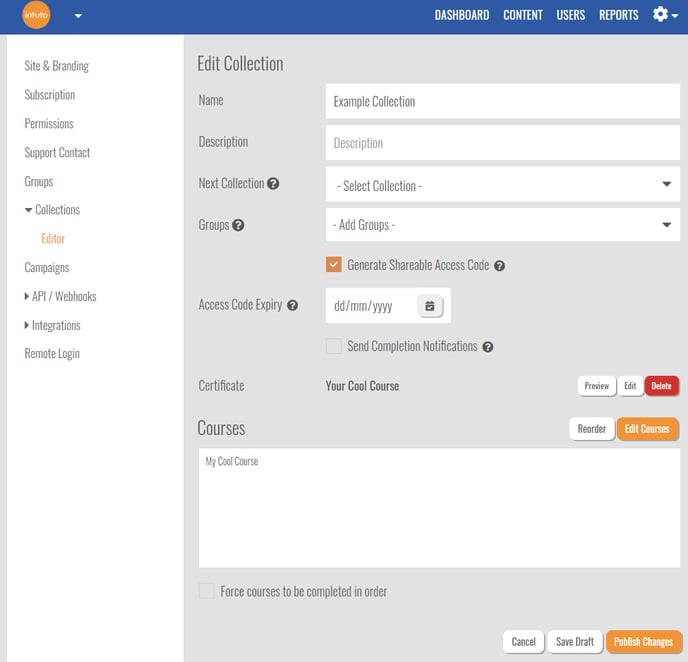 The Collection Editor contains the following:
Name - The name of your collection. This is how users will identify the collection and how it will appear on any emails or certificates.
Description - This is an optional field.
Next Collection - You can choose a collection for users to be enrolled into once they complete this collection. This is a great way to create a learning pathway and to automate your administration. This setting is only available when more than one collection exists.
Add Groups - Adding a group will automatically enrol all users in that group (or selection of groups) into the collection. Note that users need to belong to ALL groups selected to be automatically enrolled, so if groups 1, 2 and 3 are added, users will need to be in all three groups to be enrolled. Learn more about groups here.
Generate Shareable Access Code - This will generate a link to the collection for users to self enrol. Choosing an expiry date will mean that no one new can register after that date. All existing users registered into the collection before the expiry date will still be able to access the collection and courses after the date has passed.
Send Completion Notifications - Enter an email address here to receive an email advising whenever a user completes the collection, as well as a copy of the completed user's certificate if applicable. Multiple email addresses can be added by using a comma between them.
Add Certificate - You can add a certificate to a collection. Find out more about certificates here.
Manage Content - This is where you will see the courses in your collection. Click Edit Courses to see a popup where you can select the courses you want in the collection.
Force content to be completed in order - This will allow you to assign an order to the courses in the collection. When this option is selected you will see a number to the right of each course and a Reorder button will appear for you to change the order of the courses if needed. If this option is selected a user will initially gain access to only the first course in the collection. Once they have completed the first course they will gain access to the second course, and so on.
Once you are happy with your settings, you can click Publish Changes to publish the collection.
Share your Collection
Once a Collection is published, you have a few options for how to share it with your users:
You can enrol your existing users into your collection from the Users page. Learn about enrolling existing users here.
You can upload new users to your site by doing a bulk upload. Learn more about bulk uploads here.
You can share you collection by using the Shareable Access Code that can be generated from the Collection Editor page. In your collection list you will see a code in the Access Code column. Click this code to get a link to your collection that you can share.
Anyone that clicks on this link will be able to create an account on your Intuto site and access this collection.

Contact us at support@intuto.com for more help with Collections.