If you have courses or collections that have been set to expire after a set amount of time, you can check on upcoming expiries through the Expiring Enrolments report.
To see any expiring enrolments on your site you need to:
1. Access an Expiring Enrolments Report
Accessing the Report
You can access the Expiring Enrolments report from your Reports page. Click Reports and then View Report in the Expiring Enrolments section.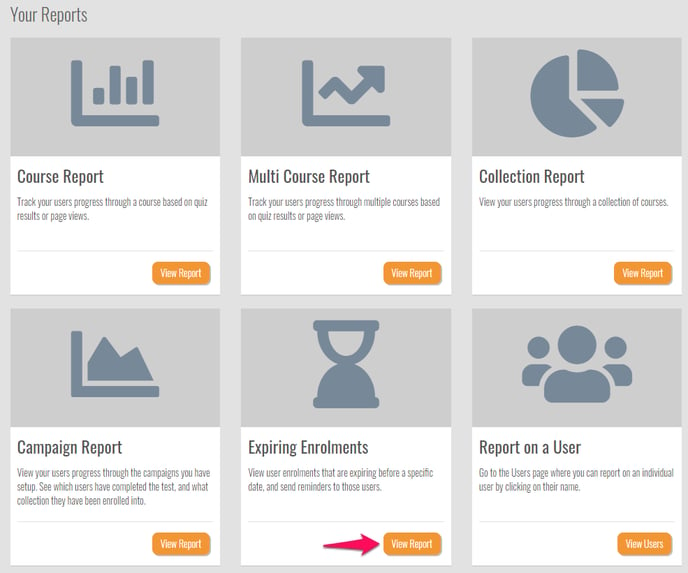 Choose to view either expiring courses, or expiring collections by clicking on the drop down box and adjust the date if desired.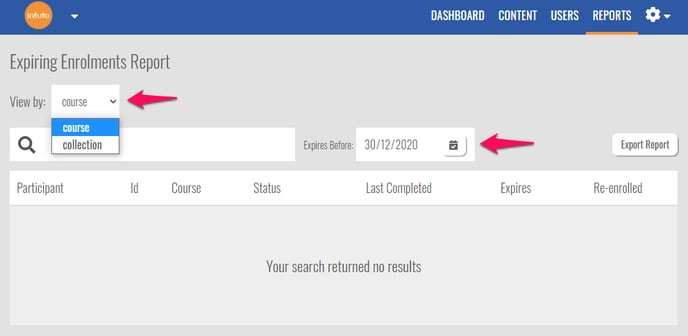 Reading the Data

You will see a list of the expiring enrolments on your site, up to the specified date.
The details will include:
Participant name
Participant ID (if applicable)
The course/collection that is expiring
The current course status
When the course was last completed
The date the course expires
The date the user was last re-enrolled
You can also search for specific users by typing their name in the search bar.

To view more details about the user and their progress, click the name of the user to view the User Report. Find out more about User Reports here.
Click the name of the course (in the course view) to view the course report. Learn more about Course Reports here.
If viewing by collection, you can click the collection name to view the collection report. Read more about Collection Reports here.
Exporting the Report
Click Export Report at any time to download an excel spreadsheet (.xlsx file) of the data currently displayed on screen. This can then be filtered, shared or stored as needed.

Note: Your exported report will reflect any search filters you have applied (name, course/collection, date) so make sure these are correct.
Contact us at support@intuto.com for further help with Expiring Enrolment Reports.