To access your settings, click on the cog icon on the top right corner of the screen, and click 'Settings'.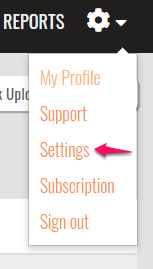 Once in the Settings area use the left hand menu to manage the settings described below.
Branding Settings
You can customise your site's appearance here. Upload your own company logo, edit your company name or change the colours of the site's banner, text, or buttons for quizzes and emails. Here are some tips on doing this.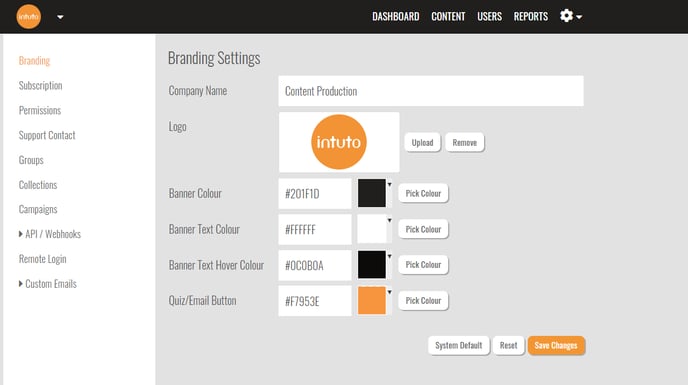 Permission Settings
You can add or edit your site's owners or contributors. To add a contributor to your site, select an existing user from the drop-down menu or invite a contributor via email by clicking ' Invite contributors now'. To make a site contributor into a site owner, you'll first have to click on the lock icon to unlock it. Then, click on the box next to the contributor's email address to be upgraded. Click on the lock again to lock it. To delete a site contributor, just click on the ' x' next to the contributor.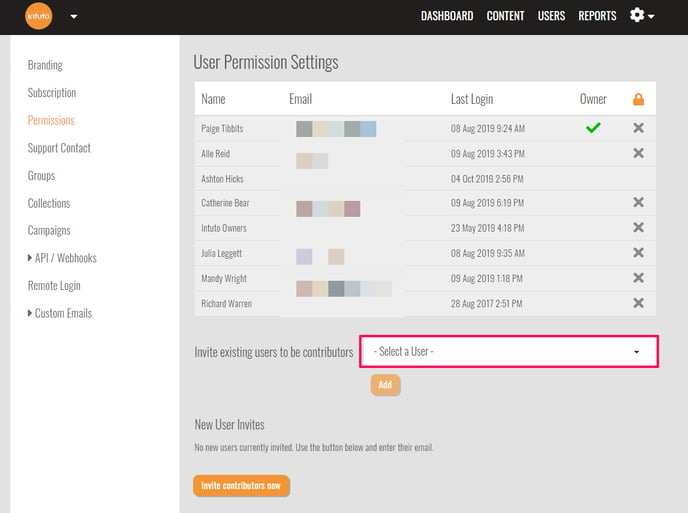 Support Contact
You can customise the contact details that will appear in automatic email notifications that are sent to your users from Intuto, and update your site's support email address and phone number.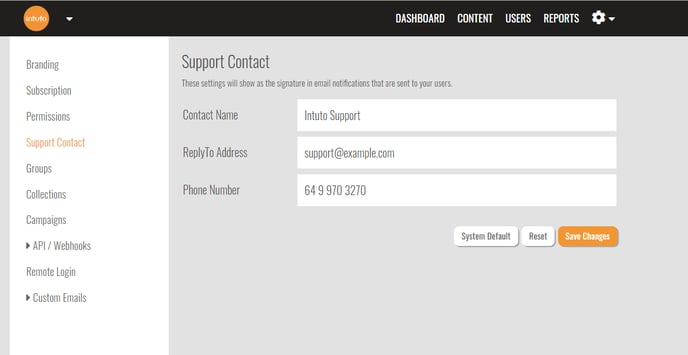 Groups
You can see your site's user groups on this page. Here you can create new groups or edit existing ones. It's important to note that group names are case sensitive. More help on groups here.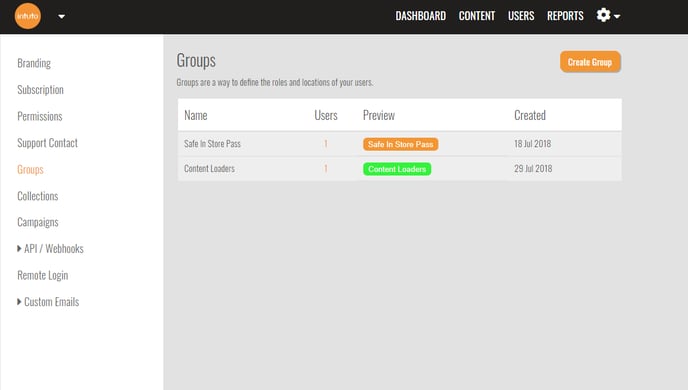 Collections page
You can create and manage your site's course collections and preview and customise certificates associated with them. You can also view reports for collections.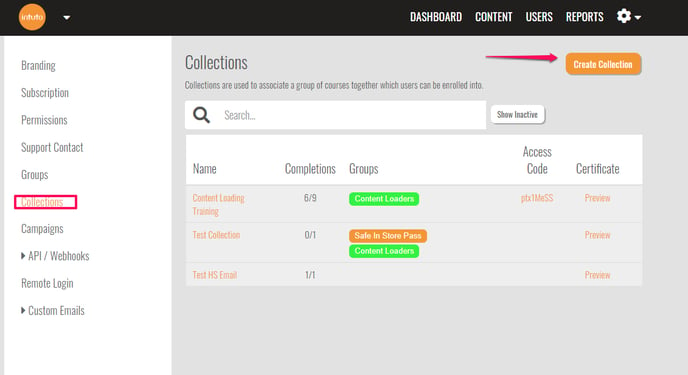 Remote Login
You can add a Remote Login box to enable access to your Intuto courses from your own website, e.g. a staff portal. More information can be found here.
Here is a basic example of its appearance. It adopts the style of the host website and can be modified.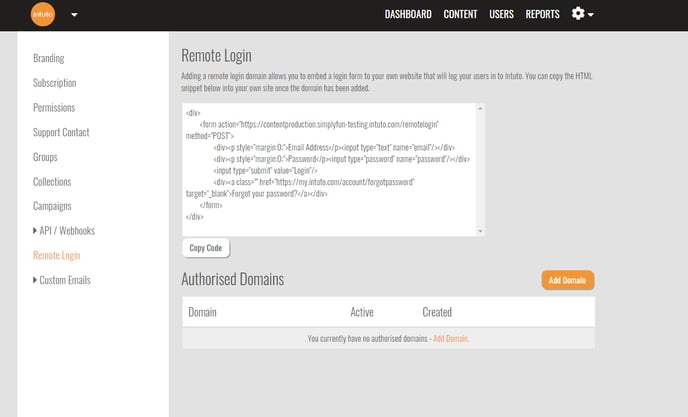 Here is a basic example of its appearance. It adopts the style of the host website and can be modified.

Campaigns
If your site has campaigns enabled, you will find them here. Campaigns allow you to test a user's understanding of the English language. Contact us for more information about Campaigns.

API/Webhooks
Please see here for documentation surrounding this feature.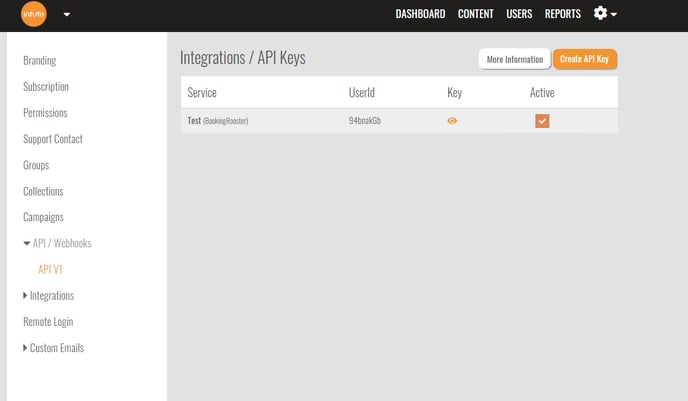 Integrations
The integrations page is where you can integrate Intuto with third-party software for seamless sharing of users, enrolments, results and qualifications. Intuto has active integrations with goRoster, Membes, Classmarker and Engage. Contact us at support@intuto.com for more information on these integrations or on setting up a custom integration.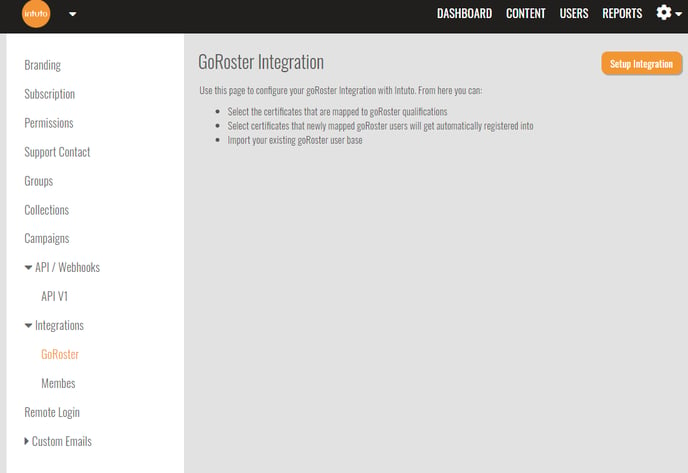 Custom Emails
On this page you can view, send test emails or edit your site's email templates for reminder emails or campaign emails. If you are unfamiliar with HTML, contact us for help with editing your custom emails.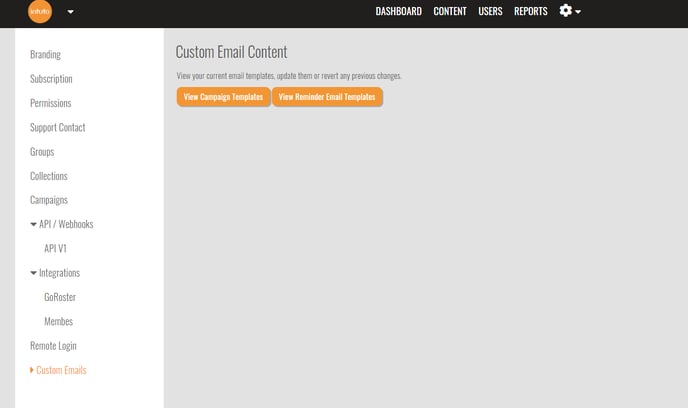 Contact us for more information or if you need help with anything else.