You can add users to your site through the Users page.
On your Users page click 'Add User' on the top left of the screen.

You will need to enter the User's First Name, Last Name and Email Address. You do not need their Country or ID unless you want these specified. You can also add the User into a Group for reporting and collection purposes. You can learn more about groups and collections here.
Leave "Generate random password" ticked for Intuto to set up a random password for the user or untick this setting to type in a password for them to use. If you untick this setting you will also be able to untick the setting "Send welcome email", this means Intuto will not send out their login details and you will need to let the user know their password.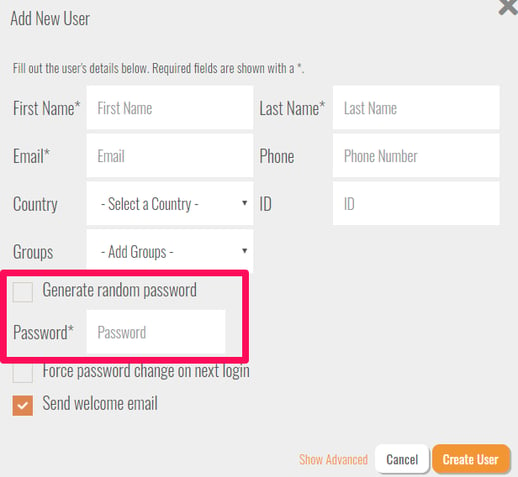 Tick "Force password change on next login" if you would like your user to update their password when they log in to Intuto for the first time.
When you are happy with your entered details and settings click "Create User", this will send the user a Welcome email (if left ticked) which will include their login details. An account will be created in the system and you will be able to find it on the Users page.
Please note: adding a user to your site will not automatically enrol them into any courses unless they have been assigned to a group that is already assigned to a collection. You will have to manually enrol the user into the course(s) or collection(s) you want them to access by selecting them and going through the Bulk Actions option.
Contact support@intuto.com for more information