As a site owner or contributor, you can access user reports.
Click on Users from the top menu or click Reports, then Report on a User. You can search users by group, name, email address or ID No. (if applicable). Hover over the user and click the pencil icon on the right side to see your options.

You will see the following menu: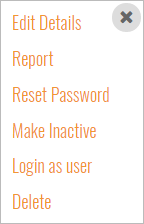 Click Report to view the user's data.

You can view user data by course, collection or campaign (if applicable). You can also click Export Report for on each of pages to generate an .xls file of the data.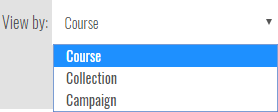 You can filter by Status or leave it as -Status- to view all data.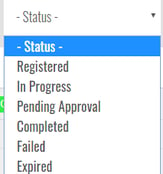 When viewing by Course, you can click on one of the User's courses (orange text) and see detail of their progress through the course (page views and Quiz attempts), or you can click on Quiz Overview (orange text) to see a User's Quiz summary for a particular course. You can reset/delete a User's Quiz attempts here.

When viewing by Collection, you can see the User's status for each Collection they are enrolled in. If you click on a particular Collection, it will take you to the Collection report for that Collection.
When viewing by Campaign (if applicable), you can see the User's test scores and can reset a User's test so that they may try again.
Contact us at support@intuto.com for help or more information.