In some circumstances you may have to delete some users so they cannot access your courses anymore.
Users can not be deleted in certain circumstances:
If they are an Owner or Contributor.
If they have received a certificate.
To delete a User go to your Users page and select the User you want to delete by ticking their name (you may need to search for them using the Search bar). You can select multiple Users at a time.
Once you have selected all your unwanted users then just click Bulk Actions. Then click Delete # Selected User.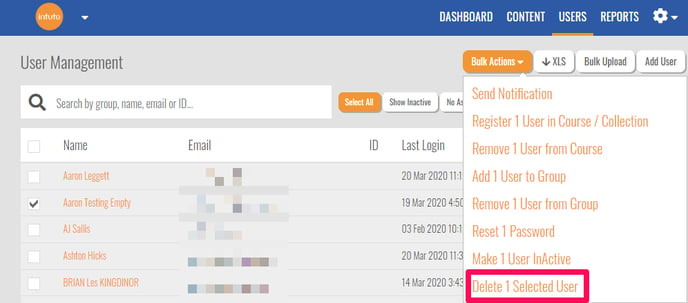 If you want to disable a User without deleting their recorded completion data then you can make them inactive. Just select them as per the above and then click Make # User Inactive.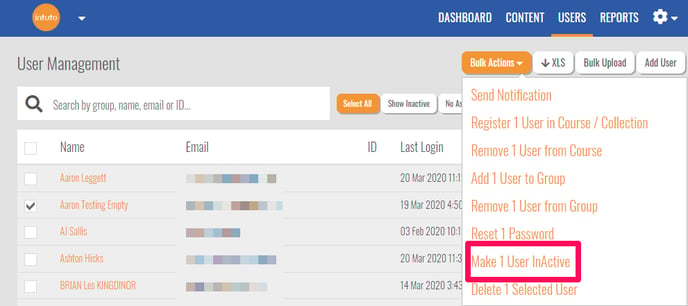 If a user has already received a Certificate, you will not be able to delete that user. You can, however, make the user inactive on your site from the Users Page with bulk Actions.
The reason: Certificates that have been issued to recipients will remain in the recipient's account, even after the original Certificate has been deleted or the Collection has been archived. If the user is made inactive they won't be able to access your site/courses anymore however they will still have their account so they can retrieve their certificate.
Deleting Owners and Contributors
From the Users page you cannot delete Owners or Contributors of a site, only Users. To delete an Owner or Contributor you must first remove their Permissions from the Site Settings page, reverting their rights back to a User.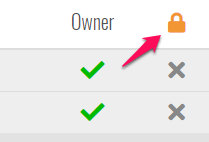 Contact us at support@intuto.com for help or more information.