In some circumstances you may want to delete or remove a user from your site so they can no longer access your courses.
Deleting a User will delete all of their completion data, so they will no longer appear in your reports. Users can not be deleted in certain circumstances:
If they are an Owner or Contributor.
If they have received a certificate.
We recommend making the user inactive instead of deleting them from your site completely. Making a user inactive prevents them from accessing any of your courses or content, but keeps their completion data in your reporting and enables you to re-activate their account if needed in the future.
To make a user inactive, find them in on the Users page and tick the box next to their name. You can select multiple users at a time. Then click Bulk Actions, and Make # User Inactive.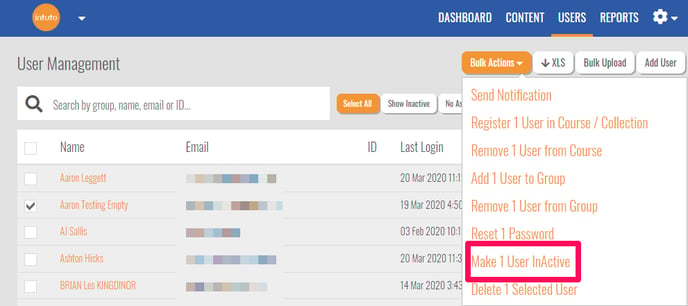 You can then view your Inactive users by clicking Show Inactive next to the search bar.
If you do want to delete a user completely, find them in on the Users page and tick the box next to their name. You can select multiple Users at a time.
Once you have selected all the users you want to delete, click Bulk Actions then Delete # Selected User.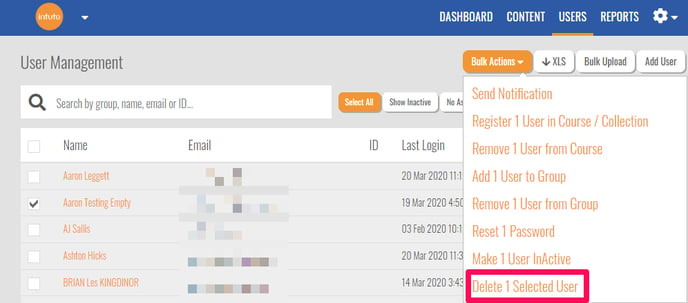 If a user has already received a Certificate, you will not be able to delete that user. You can, however, make the user inactive on your site.
This is because Certificates will remain in a recipient's account, even after the original Certificate has been deleted or the Collection has been archived. If the user is made inactive they won't be able to access your site/courses anymore however they will still have their account so they can retrieve their certificate.
Deleting Admin and Editors
From the Users page you cannot delete Admin or Editors of a site, only Users. To delete an Admin or Editor you must first remove their Permissions from the Site Settings page, reverting their rights back to a User. Learn more about Permissions on Intuto here.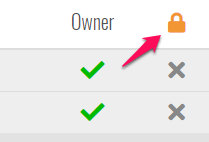 Contact us at support@intuto.com for help or more information.