You can see all the content you have been enrolled into individually or as part of a Collection.
When you log in as a user you will be taken to the Content page where you will see the courses and collections you have been enrolled into.
If you haven't got any courses available for you to access when you login to your account please contact your site administrator or support@intuto.com
Viewing your Collections
On the Content Page you can change the way you see the courses you are enrolled in by using the options across the top of the screen. Click:
Collections to view your courses grouped by Collection.
Courses to view your courses all in one list
Starred to view your starred courses. You can star a course to add it to this list by clicking the star outline on the right hand side of the screen. Remove it from this list by clicking on the star again.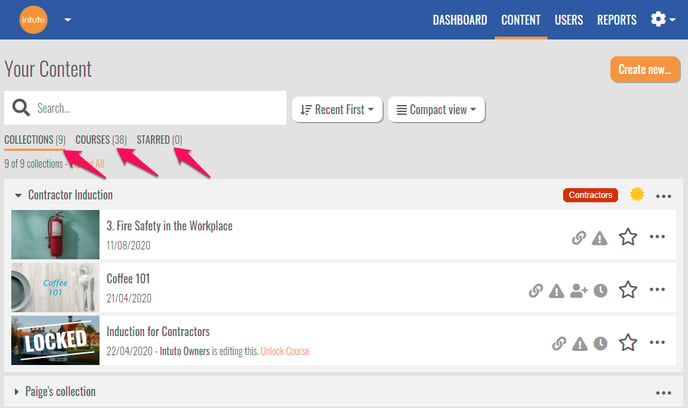 Access to Courses in a Collection
Some collections are set up so you have to complete the courses in a particular order. If enrolled in a collection like this, you will only have access to the first course in the collection to begin with. You will be enrolled into the next course automatically when you complete your first course.
The courses you don't have access to yet will show Not Yet Accessible and will not have a View, Resume or Review button.

Contact support@intuto.com for further information or help.