Quizzes can be configured through the quiz settings page outlined below.
You can edit general quiz settings and/or edit feedback settings on individual quiz questions.
General Quiz Settings
Click the pencil icon on the top of the quiz in order to Edit Settings, Reorder, Copy, Undo changes or Delete the quiz entirely.

By clicking Edit Settings, you can show quiz results, show correct answers, set a pass mark and limit the number of attempts.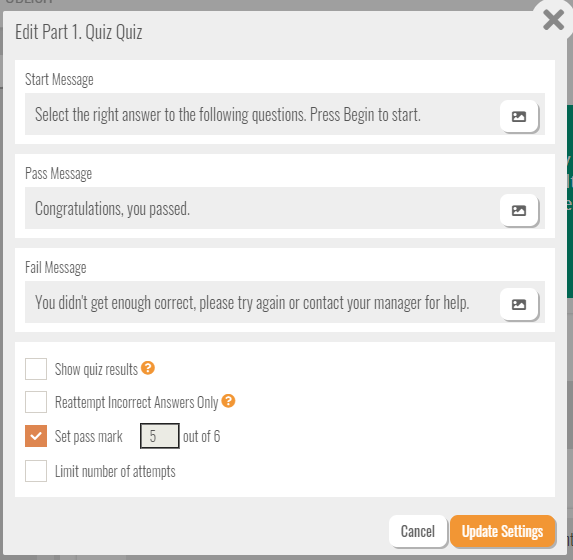 By selecting show quiz results, users can view all quiz results including the questions they answered and whether such answers were correct or incorrect.
By selecting show Correct Answer, users can view the correct answers for all questions answered incorrectly.
By selecting Reattempt incorrect answers only, users will only be shown the questions they did not answer correctly on their next attempt. Note that if a user passes the quiz and retries it, all questions will show again even with this setting on.
By selecting Set pass mark, you can determine the number of questions a user must get correct to pass the quiz. If you set a pass mark on your quiz, your finish message will automatically update to include a 'Pass' and 'Fail' message. The 'Pass' and 'Fail' messages be edited.
By limiting the number of attempts, you can determine how many times users can retry answering their incorrect answers. By default, users will have unlimited attempts at the quiz.
You can also update the 'Start' and 'Finish' messages to let your users know what to do and you can also add images to these messages by clicking the image icon on the right of each one.
Note: the text box for messages are HTML sensitive so if you want to update them to have paragraphs, bold text etc. then you will need to write in HTML. Learn the basics here.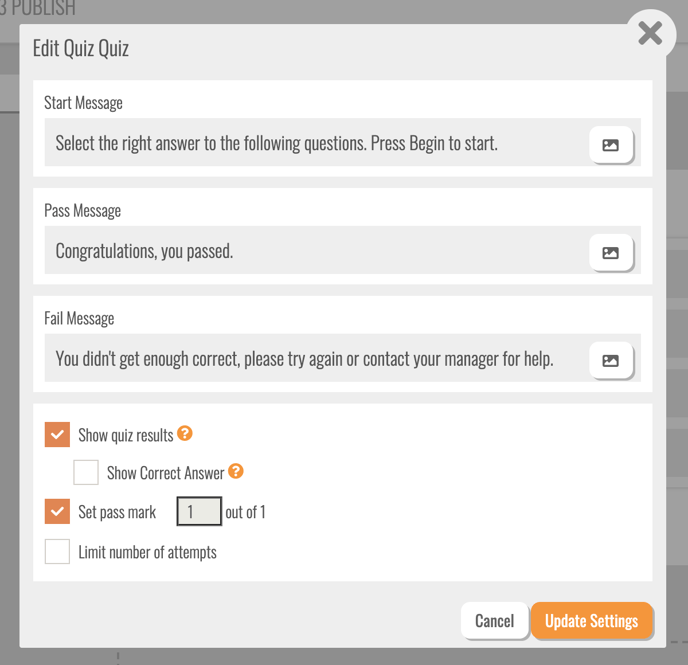 By clicking on Show quiz results and Show Correct Answers, users will receive feedback at the bottom of the question and the colours represent which answers they got correct and incorrect. Green represents a user's correct quiz answer. Yellow represents a user's incorrect quiz answer.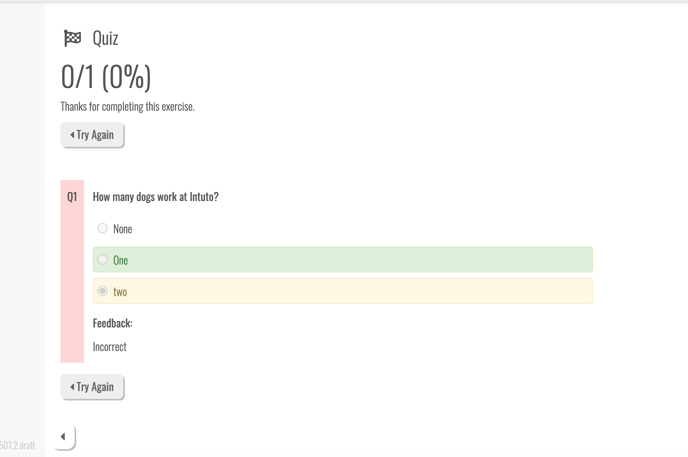 Feedback on quiz questions
Intuto allows you to add feedback to for correct and incorrect responses to quiz questions. By default, the quiz will label feedback answers as 'correct' and 'incorrect'.
To edit the question feedback settings, click on the pencil icon on the right hand side of your chosen question.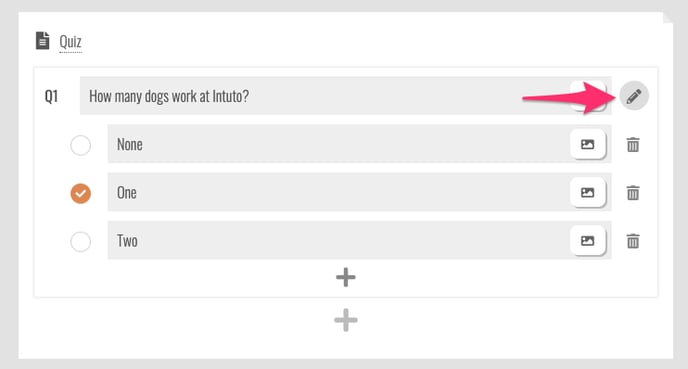 Click on the Edit Feedback button for more settings. You can also delete the question from this menu.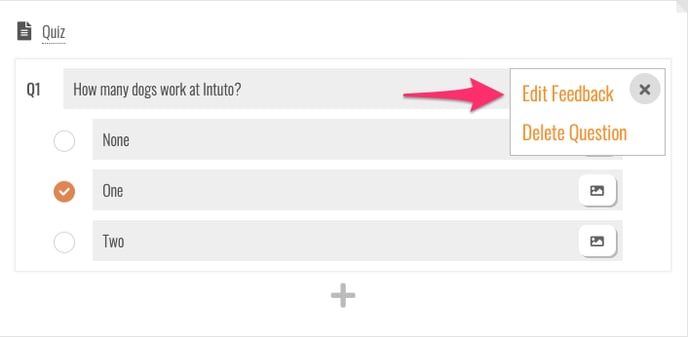 You can provide feedback for both correct and incorrect question answers. Click on the grey box and begin typing your chosen feedback message. You can also add images to feedback messages by clicking the picture icon. To save the question feedback and/or the image, click on the Save Feedback button.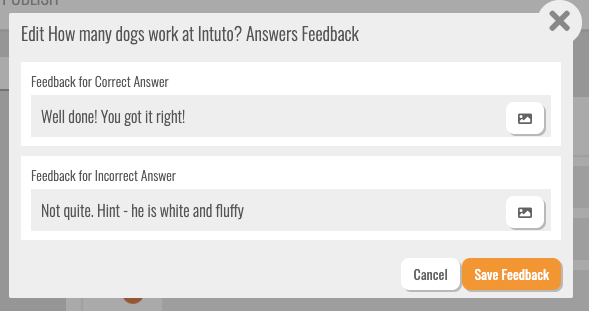 Contact us at support@intuto.com if you need any help.