There are a few options when publishing a course inside Intuto, this article explains these options.
When you are finished creating your course, click 'Next' to publish your course.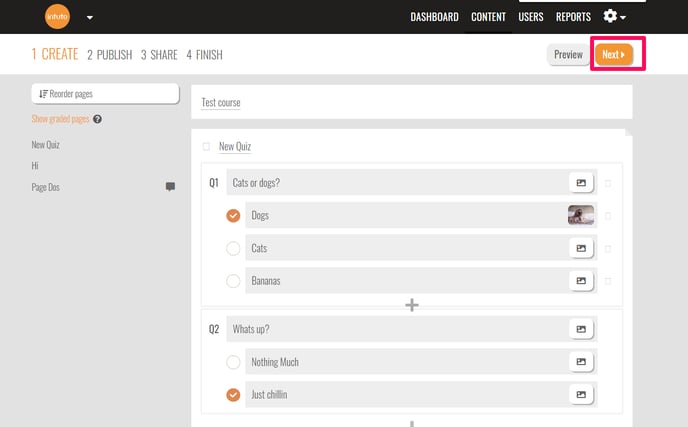 Edit your course settings in the publish page: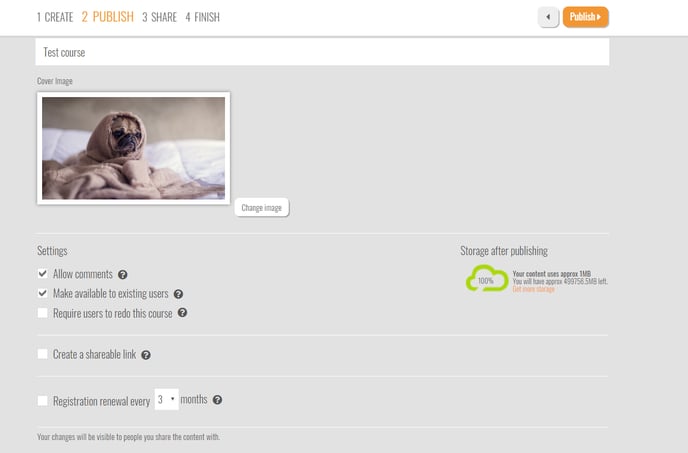 Cover image:

Add or up

date your course image (min size 200 x 112 pixels). If you have trouble with your cover image and need help email your image to

support@intuto.com

with the subject line Cover Image for [Course Name].

Comments: Allow users to add page comments to your course. Note that all users enrolled in the course will be able to see the comments from other users.
Require users to redo the course: This will notify users that they have to complete the course again after the course is published. This is useful if important information has been added to a course that all users must complete.
Make available to existing users: Allow all existing users on your Intuto site to access your course by self-enrolling.
Shareable link:

Allow self-registration link - users must register using their email address (expiry date can be set or left blank); tracking active.
Public link - allow access to your course without having to register; tracking disabled.
Registration renewal: Force users to redo the course every 3, 6, 12, 18, 24, 36 or 48 months, with or without reminder emails.
When the settings have been set, click ' Publish' to publish your content.
Your course has been published!
To share the course with your users, either bulk upload or self register users into the course.
Contact us at support@intuto.com for help or more information.